Absolute Beginners ('84-HBO/clamshell)-Julien Temple's fun musical co-starring David Bowie! $7.98
Attack Of The Giant Leeches ('59, Acme)-Low-budget monsters that really...wait for it... Suck!! (Sorry.) EP mode $7.98

Beach Blanket Bingo ('65, Orion)- Frankie Avalon and Annette Funicello star in this beach party classic! With Linda Evans as singing sensation Suger Kane! Also with Harvey Lembeck, John Ashley, Marta Kristen, Don Rickles, Paul Lynde and cameos by Buster Keaton, Earl Wilson and Bobbi Shaw! New, $5.98
The Black Gestapo ('75, Gemstone)- A group of black vigilantes, formed to wipe out crimes inflicted upon their community by "the man", become a worse threat to the local people! With Uschi Digard in a small role. RATED "R", EP MODE $9.98
Black Godfather ('74, Xenon)-Rod Perry (who would go on to star in "Black Gestapo") plays a black gangster who goes against the white mob, clawing his way to the top! Rated "R", EP mode $9.98
Al Adamson's Black Heat (aka "The Murder Gang" aka "Girls Hotel",1976, Shock-O-Rama)- Timothy Brown stars as hard-nosed policeman Kicks Carter who takes on a mob boss and his sadistic henchman played by Russ Tamblyn! With Regina Carrol and Tanya Boyd! Rated "R", $9.98.
Black Mama, White Mama ('73, Orion) - Pam Grier and Margaret Markov are 2 prison runaways chained together! Rated R, $9.98
Blacula ('72, Orion)- William Marshall is the black bloodsucker! Cursed by the original racist Dracula, "Blacula" returns in modern times (1972 that is) to quench his thirst for blood! He meets a young woman who resembles his dead wife! SP mode, $9.98
JESS FRANCO'S
BLIND TARGET
STARRING
LINA ROMAY - RACHEL SHEPPARD
TATIANA COHEN - LINNEA QUIGLEY

Maria Beltran emigrated to the U.S.A. from San Hermoso at an early age and now returns as an adult after writing a best-selling novel betraying the evil and corruption in the government of her dirt poor native land. What was planned as a simple press junket though Latin America quickly evolves into a living nightmare of murder and kidnapping as she is caught up in the ongoing factions waging a dirty war of political insurrection. Stripped of her freedom and forced squarely into the middle of an assassination plot, Maria must weigh the odds between self-preservation and civil war. Facing the perils of torture, rape and the secret police, she can't trust either her CIA friends or her insurgent enemies. Her finger is on the trigger but she might just as well be the BLIND TARGET. Contains the original theme performed by The Ubangis and a guy that looks suspiciously like Horrorwitz! Click box at left for more information!

Contains the original theme performed by The Ubangis and a guy that looks suspiciously like Horrorwitz! (Click box at left for more information!)

Note: This was the movie that our documentary "Antena Criminal - Making A Jess Franco Movie" was shot around!

ORIGINAL VIDEOTAPES FROM SUB ROSA STUDIOS
$9.98

CONTAINS NUDITY AND MATURE SITUATIONS
FOR SALE TO ADULTS ONLY!

The Blues Brothers ('80, MCA)-John Belushi & Dan Aykroyd star. Rated "R", 1 COPY LEFT! $4.98
The Brain That Wouldn't Die ('60, Rhino)-Uncut version of this scream gem hosted by Elvira (She introduces, but doesn't interrupt, the flick.) Great pin-headed monster, bloody dismemberment & cool cat fight! A must! $9.98
The Brain That Wouldn't Die ('60, Acme)- Same as above but without Elvira hosting. $9.98
A Bucket Of Blood ('59-Acme, EP mode)-Roger Corman's beatnik cult horror-comedy starring Dick Miller! $4.98
Bucktown ('75, Orion)- Fred Williamson goes back to his southern hometown to bury his brother, a victim of the racist local police! Pam Grier co-stars. Rated "R", SP mode? $9.98
Carnival Of Souls ('62, Amvest)- Low-budget creepy cult hit! Introduced by Al "Grampa" Lewis! LP mode, $5.98
Carnival Rock ('57, Rhino)-Roger Corman directed drama with appearances by The Platters and swingin' rockabilly from Bob Luman and David Houston! With Susan Cabot & Dick Miller! $9.98
The Chinese Connection ('73, Alpha)-Bruce Lee avenges the murder of his school master! Good action! EP, $3.98
Coffy ('73, Orion)- Pam Grier stars in Jack Hill's blaxploitation classic! She plays a sexy nurse who goes undercover posing as a high price call girl. Coffy sets out to infiltrate a big business drug ring but soon finds out some shady dirt on her politician boyfriend! If you've never seen Pam in action, this is the one to check out! With Sid Haig. Rated "R", SP mode $9.98
The Crawling Hand ('63, Acme, EP MODE)-The arm of an insane blown-up astronaut creates terror by possessing the mind of a teenager, turning him into a killer! Includes the hit song "The Bird's The Word" by The Rivingtons! $5.98
Cry of the Banshee ('70, Orion) - Vincent Price witch hunt horror! EP MODE, $2.99
Cult Movies T.V.: Jack Hill (1999)-SALE PRICED!-The editors of Cult Movies Magazine have now moved into the cable t.v. arena with their new show! This 30 minute tape contains the 3rd episode, an exclusive interview with legendary writer / director Jack Hill! A really talented exploitation filmaker who brought us such classics as "Spider Baby", "Switchblade Sisters", "Coffy", "Foxy Brown" and others! This pre-recorded videotape comes in a nice full-color cover clamshell box and sells for only $9.98! A must for fans!!
Dawn Of The Dead ('78, Anchor Bay)-126 minute unrated theatrical version with Goblin score! ADULTS, EP, $4.98
Demons Of The Mind ('71)-Original HBO release in nice clamshell boxes! Great underrated Hammer film about incest and bloody obsession! Peter Sykes directs. Rated "R", ! $12.98
Diamond Shaft (Xenon)- After spending 5 years in a London prison, safecracker Richard Roundtree (from "Shaft") is picked up by a mysterious man who proposes a job stealing $100,000,000! Barbara Hershey co-stars. Rated "R", EP mode $9.98
Dinosaurus! ('60, New World)-A young boy encounters a brontosaurus, tyrannosaurus, & neanderthal man! $9.98
Disco Godfather ('79, Xenon)- Rudy Ray Moore is Tucker Williams, a badass rapping disco d.j. and ex-cop. He gets back into action when he takes on Stinger, a huge angel-dust kingpin! "Put your weight on it!!" Rated "R", EP mode $9.98
Doctor Blood's Coffin ('60, Alpha)- ...and his patients are "coffin" up blood!! A mad doctor (anudder one!!??) thinks he can reanimate the dead in this schlocky shocker! Kieron Moore stars with Hazel Court! OUT OF PRINT, EP MODE, $4.98
Dolemite ('75, Xenon)- Rudy Ray Moore's 1st classic flick which brought the character of Dolemite to the silver-screen! Big D. and his all-girl army of kung-fu help the FBI smash a ruthless racketeering gang! Rated "R", EP mode $9.98 OUT OF STOCK
Dynamite Chicken / Black Brigade 2 TAPE SET ('69, Quality) - Counterculture comedy + black war drama both starring Richard Pryor. EP MODE? $9.98
The Education Of Sonny Carson ('74, Hollywood Select)- A moving story of a man's determination to leave behind the street life of crime & drugs. Hard-to-find videotape! SP mode, $10.98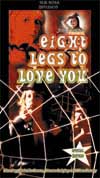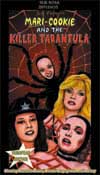 JESS FRANCO'S
EIGHT LEGS TO LOVE YOU
with FREE second videotape
MARI-COOKIE AND THE KILLER TARANTULA
2 TAPE SET!
(1999, Sub Rosa Studios) Lina Romay plays the evil Mari-Cookie, an exotic dancer that brings the "Spider Woman" cliche to a head! She's spinning a web of lust and murder, and only sexy sheriff Michelle Bauer can crack her case! Co-starring Analia Ivers, Linnea Quigley and Amber Newman, this is without a doubt one of Franco's stranger movies! Originally titled "Mari-Cookie And The Killer Tarantula", when you purchase "Eight Legs To Love You" you get a second videotape of the entire film with music score only! This second tape, under the older "Mari-Cookie" title (with a cover illustrated by Trash Palace's own Stephen Blickenstaff incidentally!) was, I suspect, a manufacturing error, so we're giving them away FREE while they last!
ADULTS ONLY $11.98
The Giant Gila Monster ('59, Acme)- It's a lizard, but it's like really freakin' big! And he's out to gobble up every teen at Lover's Lane! Holy shit! Fun low-budget monster tale shot in Texas! Introduced by Elvira. $5.98
Godzilla-King Of The Monsters ('56, Simitar)-The original black & white classic! EP mode, $3.98
Godzilla Vs. Mechagodzilla (aka "Godzilla Vs.The Cosmic Monster",'74, Starmaker)-You can let 'em have their high-tech remakes! For me these juvenile cheezy rubber-suited ones're the best! The "Big G" teams up with King Seeser to fight a robot Godzilla controlled by evil aliens (actors in dimestore "Planet Of The Apes" masks!).EP mode, $4.98
Godzilla Vs. Megalon ('73, Alpha)-Atomic testing in Japan disturbs the underground-dwelling Seatopians. They retaliate by unleashing Megalon and Gigan! Juvenile but fun film with the Ultaman-like robot Jet Jaguar! Hell, I loved it in the theater! OUT OF PRINT! EP MODE, $3.99
Gorgo ('61, Alpha)-England's answer to Godzilla (which was Japan's answer to King Kong!). Good film! EP, $2.98
Hatchet For The Honeymoon ('69, Alpha, EP MODE)- Mario Bava psychotic giallo! $2.99

Hell Up In Harlem ('73, Orion)- Fred Williamson continues where "Black Caesar" left off! Bloodied but unbroken, he attempts to regain control of the black underworld! With songs by Edwin Starr! Written, produced & directed by Larry Cohen. Rated "R", EP mode $9.98
Hercules ('57, Alpha) - Starring Steeve Reeves, Sylva Koscina and Gianna Maria Canale. EP MODE $3.98
Hercules And The Captive Women ('61, Alpha)- Reg Park is Hercules. With Fay Spain! Pretty wild! EP MODE $3.98
Hercules Unchained ('58, Alpha)-Reeves & Koscina return in this exciting sequel! EP MODE $3.98
High School Caesar ('60, Rhino)-Teen idol John Ashley runs a high school protection racket! Great theme song! $9.98
House on Haunted Hill ('59, Goodtimes) - Vincent Price in William Castle shocker! LP MODE, $4.99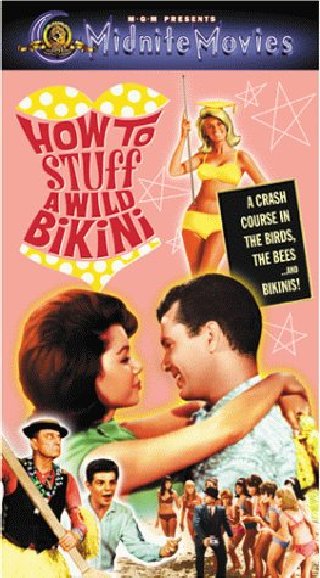 How To Stuff A Wild Bikini
('65, MGM)-Beach blast blowup with Annette Funicello, Frankie Avalon, Dwayne Hickman, Buster Keaton, Harvey Lembeck, Beverly Adams, John Ashley and Mickey Rooney, with music by William Asher! $7.98
The Human Tornado ('76, Xenon)- Dolemite returns! This time he's being chased by a redneck sheriff and his men all because he banged the cracker's old lady! After being caught in bed, she cries "Rape!" to which Rudy screams the immortal line "Bitch! Are you for real?!?"! With Queen Bee and her kung-fu girls! Rated "R", EP mode $9.98
I Like The Girls Who Do (aka "Liebesjagd durch 7 Betten", 1973, Seduction Cinema)- Hans Billian directed this West German sexploiter about stands to inherit his deceased uncle's fortune but with 1 catch: The young virgin has 1 week to lay the last 7 women that his uncle did! Stars Aleander Allerson with Bea Baldur, Birgit Bergen and Helga Konig. Also included is the new bonus 20 minute featurette "Peeping In A Girls Dormitory" starring Tina Krause, Esmerelda de la Rocco and Misty Mundae! 2 naughty schoolgirls get into a lot of trouble! ADULTS, $14.98
Incubus (1965, Fox Lorber)- William Shatner stars in this creepy black & white movie about a beautiful demon (Allyson Ames) who falls in love with a purehearted man, angering her demon sister! This fim, made by "Outer Limits" director Leslie Stevens, was filmed entirely in the artificial language of Esperanto (with English subtitles) to suggest an otherworldly place! List priced at $19.98, now on sale for a limited time to Trash Palace customers for only $9.98!
Inga (1967, Retro Seduction Cinema)- Joe Sarno's 60's black & white softcore classic from Sweden gets a new lease on celluloid life with this remastered release! Marie Liljedahl is young and innocent Inga who, after the death of her mother, goes to live with her sexy aunt Greta. The scheming aunt has plans to exploit the naive girl who begins to learn the ways of lust and love! This is the uncut wide-screen and English subtitled Swedish version! Rated "R" $14.98
Inn of 1,000 Sins (aka "Ein Echter Hausfrauenfreund" aka "Room Service" aka "Happy Gigolo", 1975, Seduction Cinema)- West German sexual romp about a young gigolo serving the needs of the voluptuous female tenants of a resort hotel! One day he falls for a wealthy young virgin! Will this be the end of his career? Starring Peter Hamm, Margaret Rose Keil, Eva Gross, Rose Gardner and others, and directed by Ilja Nutrof. Also inculded is the new 22 minute featurette "The Vibrating Maid" starring Misty Mundae as a college student on holiday at her fathers who gets a lesson in self-pleasure from her pop's maid! BOINGGG!! ADULTS, $14.98 (Also available on DVD for $16.98)
Invasion of the Bodysnatchers VIDEOCASSETTE (1955, Republic Home Video)- Gorgeous SP mode home videocassette release of creepy sci-fi classic! Limited supply! $4.98
It Takes A Thief ('60, Cinema Stars)- Jayne Mansfield crime drama! EP mode, $2.98
Jungleground ('95, Triboro) - Roddy Piper stars in Urban crime drama! Rated R, $2.99
Kidnap Syndicate (original title" La Città sconvolta: caccia spietata ai rapitori, '75, ABM) - Fernando Di Leo Italian crime flick with James Mason. Might be LP MODE? $3.99
Killers From Space ('54, Goodtimes)- Peter Graves fights goofy looking bug-eyed space invaders and unrealistically photographed "giant" insects and lizards in this unintentionally hilarious black & white sci-fi low-budgeter! $3.98
King Of New York ('90, Avid)- Christopher Walken is a druglord just out of prison. Attempting to take back control of the business, he wages a war against his competition and the police! Abel Ferrara directs! Rated "R", EP mode, $7.98
King Of The Zombies('41, Alpha)- Comical chiller as Mantan Moreland meets a scientist & his zombie army! EP, $3.98
The Legend Of Dolomite ('94, Xenon)- Excellent documentary on Rudy Ray Moore featuring exclusive interviews with him and special guests Lady Reed, Ice-T, LaWanda Paige & others! Plus lots of film clips and recent concert footage that was so fowl it even made Horrorwitz blush! If you're a Rudy fan, this is a MUST HAVE! ADULTS ONLY, EP mode, $9.98 OUT OF STOCK
Little Shop Of Horrors ('60, Alpha)- Roger Corman's original version! Audrey the plant needs blood! EP mode, $2.99
Man Beast ('55, Acme)-A young girl looks in the Himalayas for her missing brother but finds yeti terror instead! Directed by Jerry Warren. EP MODE, $5.98
Mania ( aka "The Flesh And The Fiends", '59, Alpha)- John Gilling's grizzly grave-robbing yarn starring Peter Cushing. Un under rated black & white thriller that I felt was much more atmospheric and disturbing than other U.K. pics from that time! EP mode, $3.98
Jess Franco's Mari-Cookie And The Killer Tarantula (see Eight Legs To Love You above)
Al Adamson's Mean Mother (1973, Shock-O-Rama)- After pulling their last drug deal, 2 army buddies go AWOL in Viet Nam and turn against the crime bosses they once served. When they meet up in Rome, the Syndicate is hot on their trail! Starring Clifford Brown and lovely Luciana Paluzzi! Rated "R", $9.98
Medusa Against The Son Of Hercules ('62, Alpha)- Alberto De Martino's sword and sandal epic! Richard Harrison fights the one-eyed Medusa and a man-eating dragon! EP mode, $4.98
Mister Scarface ('77, Alpha)-See "Italian Crime" listing in "Collectors' Videotapes" section. EP mode, $3.98
My Lucky Stars ('85, Arena)- Policeman Jackie Chan gets help from a group of rag-tag crooks, The Lucky Stars, to free his kidnapped partner! Lots of action with Samo Hung, Yuen Biao, Sibelle Hu, & Lam Ching Ying! EP mode, $4.98
Naked Youth (aka Wild Youth, '5?, Rhino)-Troubled teens head to Mexico and become involved with drugs andthe mob! Introduced by Mamie Van Doren! EP mode, $9.98
Naughty Nymphs (BLUTJUNG UND LIEBESHUNGRIG aka PASSION PILL SWINGERS aka DON'T TELL DADDY, 1972, Cult Cuties Video)- Sybil Danning is a young nurse in this West German sexploiter. She and her sisters discover aphrodisiacs in their father's pharmacy and slip it into the town's water supply causing the entire community to become sex-crazed knockwurst-stuffers overnight! With Puppa Armbruster and Diana Dors, directed by Franz Antel. ADULTS, $19.98
Night Of The Sharks ('87, MNTEX)- Tonino Ricci directs this crime / shark thriller starring Treat Williams. With Antonio Fargas and Janet Agren. $8.98
Penitentiary II ('82, Xenon)- Kennedy returns in this wilder sequel! Look for Mr. T and Rudy Ray Moore! Rated "R", EP mode $9.98
Pit And The Pendulum ('61, Orion / Goodtimes)-Vincent Price stars in Roger Corman's Poe adaptation! $2.98
Repulsion ('65, Cinema Stars)- Catherine Deneuve stars in Roman Polanski's best! EP mode, $3.98
Rivals Of The Dragon ('7?-Alpha)-Jeffrey Chan in a contemporary story of kung--fu & gang revenge! EP, $4.98
Rosemary's Baby ('68, Paramount) - Roman Polanski's classic urban horror starring Mia Farrow! Rated R, $6.98
Rude (aka "Eat Out More Often",'80, Xenon)- 80 minutes of Rudy Ray Moore in concert! With Leroy & Skillet! Rated "R", EP mode $9.98
The Rutles-All You Need Is Cash (78-Rhino)-Monty Python's Eric Idle masterminded this ingenious Beatles satire! With Neil Innes & appearances by John Belushi, Mick Jagger, George Harrison & others! A must! $14.98
Sgt. Pepper's Lonely Hearts Club Band ('78, MCA)- Peter Frampton & The Bee Gee's destroy many Beatle songs in this hilariously dated musical with Aerosmith, Alice Cooper, & George Burns! Vomit bag not included. $6.98
Shaft ('71, MGM)- Trendsetting blaxploiter that spawned a ton of imitations! Richard Roundtree is a detective who's been hired by Bumpy, a gangster, to find his daughter! Excellent Isaac Hayes soundtrack. Y'know, they say that cat Shaft is a bad mother— Shut yo' mouth!! Rated "R", SP mode $9.98
Shock ('46, Alpha) - Vincent Price stars in eerie murder thriller! EP MODE, $3.99
Slaughter's Big Rip-Off ('73)- Slaughter (Jim Brown) agrees to help a detective break into the guarded fortress of an L.A. branch of the mob to obtain documents listing every corrupt policeman & politician on their payroll! When the mob kidnaps Slaughter's woman, all hell breaks loose! Co-starring Ed McMahon as a head crime boss! Rated "R", SP mode $9.98
Slime City (1989, Shock-O-Rama)- Underrated gore extravaganza! The ghost of a Satanic cult leader possesses the mind of a young man turning him into a slime-covered ghoul! Lots of over-the-top effects elevate this low-budget N.Y. lensed horror film into cult status! Also included is a bonus documentary "Making Slime"! Comes in gatefold box with photos and liner notes! Rated "R", $14.98
Son Of Godzilla ('66, Anchor Bay / Starmaker)- Godzilla and her son are "bugged" by giant spiders & a monster mantis! EP, $5.98
Soul Vengeance (aka "Welcome Home Brother Charles",'75-Xenon)-See "Blaxploitation" section! "R", EP, $9.98
Sugar Hill ('93, 20th Century Fox) - Wesley Snipes stars in gritty city crime drama! Rated R, $4.98
Super Fly ('72, Warner)- Ron O'Neil is Priest, a coke-snorting drug dealer who wants out. Easier said than done, as the kingpin doesn't want Priest to leave the business! The disagreement triggers murder, revenge & doublecrosses! A serious and well-made film that stands out! Rated "R", SP mode $9.98
Svengali ('31, Alpha) - Excellent mind control thriller, a classic! Starring Johm Barrymore and beautiful Marian Marsh! EP MODE, $2.99
TNT Jackson ('74, Front Row Ent.)- Jeanne Bell is one pissed-off black mama who goes undercover as a prostitute in Hong Kong to find the drug dealers responsible for offing her brother! With a classic topless kung-fu scene!! TNT Jackson... She'll put you in traction! Rated R, EP MODE $7.98
Too Hot To Handle ('60, Cinema Stars)- Jayne Mansfield stars! With Christopher Lee! EP mode, $3.98
The Twilight People ('72, ABM VIDEO)- Philippino lensed remake of "Island Of Dr. Moreau" starring John Ashley! Look for Pam Grier in a brief appearance as the panther woman! Grrrr, baby! Only $2.98
Truck Turner ('74, Orion)- Isaac Hayes stars (and performs the soundtrack as well) as a modern day bounty hunter who gets in over his head! Co-starring Yaphet Kotto. Rated "R", SP mode $9.98
One Shot Productions and Los Dos Hombres present
ANALIA IVARS LINA ROMAY RACHEL SHEPPARD
in
VAMPIRE BLUES
A JESS FRANCO FILM
Music by Jess Franco, Daniel White and The Ubangis
LIMITED EDITION OF 300 COPIES - ONLY A FEW LEFT!
Now only $9.98 while they last!
(mfg. list price was $39.98!)

CLICK HERE FOR MORE INFO.!

Jess Franco's Vampire Junction (2001, Sub Rosa)- Franco's follow-up to Vampire Blues is here! Samantha Olsen, Fata Morgan and Lina Romay star in the torrid tale of a female doctor who, upon arriving to the town of Fallas, New Mexico, discovers that a bloodthirsty vampire princess of American Indian descent has chosen the unfortunate doc to be her heir! Rated R, $9.98
White Slave (aka "Amazonia-The Catherine Mills Story", 1984, Shock-O-Rama)-Directed by "Roy Garrett" (Mario Garriazzo and produced by Franco "Mondo Cane" comes this Italian lensed "based on a true story" jungle horror drama of a woman who is kidnapped by jungle savages as her parents are killed by headhunters! More tame than a lot of the cannibal films, this one still has its sick & sleazy moments. Rated "R", $14.98
White Zombie ('32, Alpha)- The first zombie movie! Bela Lugosi stars in this moody horror classic! EP mode, $2.98
Young Frankenstein ('74, Fox)- Gene Wilder stars as Dr. "Frahnk-ahn-steen"in Mel Brooks best! $4.98
Zoltan - The Hound of Dracula ('77, Congress) - WOOF!! GRRrrr.... SLURP!! $9.98