One Shot Productions and Los Dos Hombres present


STARRING
Music by Jess Franco, Daniel White and The Ubangis
Produced by Kevin Collins and Peter Evanko
American Version edited by Kevin Collins
Special thanks to Horizon Video and Karen Wong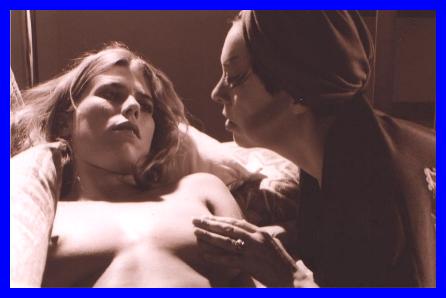 "With a budget that wouldn't be the envy of even the most amateur video directors but with the benefits of the most sophisticated techniques and special optical effects, Jess Franco offers us a film undeniably the best of the 1990s within the "Cult of Jess Franco:" VAMPIRE BLUES. Appearing like a sublime musical comic strip or an experiment with the devil, the film has a deliberate slow pace which repays the viewer by being perfectly fascinating. It reflects the most tenacious obsessions of the auteur and VAMPIRE BLUES is undoubtably the strongest and the purest film conceived by Jess Franco since his glory days with Golden Films. Outrageous, obessesive, irritating, hypnotic, and crazily audacious, VAMPIRE BLUES is a superb blasphamy of cinema, a deliciously toxicating work, a vampire film that resembles no other. It's a veritable virtual trip which, without a doubt, will be adored by surrealists. Pardoxically, the thiness of funds serves the film very well and it appears - at different moments - to give recall the classic auteurs of the American underground such as Kenneth Angers, Andy Warhol or Paul Morrisey. VAMPIRE BLUES will be adored by many and even though some may throw up their hands, others will bow down. But it won't leave any viewer indifferent. The film is a gift and is already - within this specific genre - a huge classic. Apparently, Jess Franco seems to have found, in the persons of Kevin Collins and Peter Evanko, the producers he has been waiting for forever. Bravo to them."
~Alain Petit, 'Cine Zine Zone's Manacoa Files'
ORIGINAL EDITION VIDEOTAPE
ON SALE NOW FOR $9.98!
ORIGINAL ONE-SHOT VIDEOTAPE
LIMITED EDITION OF 300 COPIES NOW ON SALE FOR $9.98 (original list price was $39.98!)
This original One-Shot videocassette was produced in an edition of only 300 copies and contains the final US cut with a mostly different dialogue track. Only a few left!
~ALSO~
SUB ROSA SPECIAL EDITION DVD IS OUT OF PRINT (SORRY!)
Contains the final US cut plus the original European version, a photo gallery, several complete soundtrack selections on the menus and a special psycho-delic live video of The Ubangis performing their theme to the movie!
WARNING: THIS MOVIE CONTAINS NUDITY AND SEXUAL SITUATIONS AND IS ONLY ON SALE TO ADULT GHOULS OF AN OPEN MINDED NATURE!
CLICK HERE TO GO BACK TO THE TRASH PALACE HOME PAGE